This match finds itself in an unfortunate situation. On one hand, it could well be a historic occasion for us – and for Ronnie Henry in particular. On the other hand, it's the proverbial filling in our FA Cup sandwich. After failing to bump off Reading indoors, we'll renew that acquaintance on the other side of this weekend. Now we know it's Carlisle or Sheffield Wednesday who await the winner of Tuesday's replay at the Madejski Stadium, what of this match then? Y'know, as we go head-to-head, toe-to-toe and fist-bump to fist-bump with Morecambe.
Well, what of this match indeed? It is League Two's fifth worst team against ninth. If your glass tends to be half full, then it's the 20th best team in the division versus the 16th best. Semantics. Don't you just love 'em? But, of course you do. Our hosts can – thanks to an inferior goal difference – ascend no more above 19th than invent a perpetual motion machine if they win this match-up. Boro's potential riches are slightly more lucrative; a trio of places are the extent to which we can climb. Ah, but for our terrible, terrible run of form on the road…
Morecambe v Stevenage: The Lowdown
The Referee
Tom Nield. An official who put in a "performance below standard expected of a referee even in fifth tier" in the Championship last year. And if that doesn't fill you with must hope, neither will our one and only prior meeting.
P1 W0 D0 L1 F0 A1; last result: Mansfield Town 0-1 Stevenage, 18/11/2017
The Head-to-Head
P37 W17 D11 L9 F62 A45; last result: Stevenage 2-1 Morecambe, 23/09/2017
The Opposition
This is the 38th meeting between Morecambe and Stevenage; the 10th in the Football League. If we think both of us are sticking around for at least one more year, the Shrimps will have met us as many times as Woking had – before we left the Cards behind. It's almost incredible. And almost relevant. Not that our encounters tend to be boring. With 62 goals to our name and 17 wins, we've neither scored nor won more against any other. What about this nugget too: they're without a win against us on their own turf since 2005! Don't balls it up Boro'…
The Form
Away form, needs to be better, yadda yadda yadda… It's around three-and-a-half months since we last picked up three points on the road, and that means the story here hasn't exactly changed in a way that we can make it interesting. So, that's why we focus on the shortcomings (we hope) of our hosts instead. Morecambe have won their last two in a row, three of their last six or four of their last ten. Only Cambridge and Crawley have scored fewer in the league this term, though they have netted in each of their last seven matches.
That said, Morecambe do tend to let them in as well. In fact, more than three-quarters of their fixtures indoors have seen the opposition score at least once. For all their recent scoring 'prowess' (That's not really the word you mean, is it? Ed.), the Shrimps have fired blanks in nearly half of their home games to date (46%). Now, we know that our defence has been, hmm, generous on occasion this term, this shouldn't ought to be our stiffest test. And, yet, we've said that time and again before. So, we'll just park that there and move quietly on.
kickoff.co.uk is back to refresh the parts that other stats providers can't…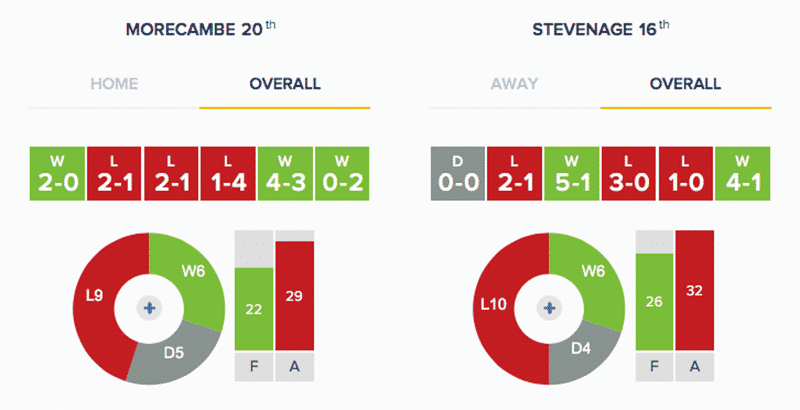 • BoroGuide's Morecambe club profile– they seek it here, they seek it there…