To a few people, he's a two-time Olympic decathlon champion; winning gold in 1980 and 1984. But, to others, Daley Thompson is best known as a Boro' player. Probably. At least, we think we got it the right way around. And it was a blink-and-you-miss-it relationship. He came in, played, and left (apparently) within the space of about a week. It was so fast that neither our matchday programme team nor the local press could keep up. More on that in a bit.
But how on earth did one of Britain's greatest athletes end up treading the boards at Broadhall Way? How did his time with us pan out? Where did he go? And, for the sake of our younger folk, who the hell actually was Daley Thompson? The 1980s are a million light years away for some.
Daley Thompson: Who Is He?
For an athlete, is an Olympic gold medal as good as it gets? How about a World Championship title? What if you doubled up on Olympic glory; putting in European and Commonwealth titles into the mix for good measure. And what if all those gold medals come in a hugely demanding event where you actually do 10 different events – running, jumping, and throwing. Now you're starting to get an idea of the heights scaled by Daley Thompson.
Indeed, Comet sports ed Phil Ravitz summed it up in style when news of Thompson's arrival at Boro' became known; describing "the finest athlete in British football. In football, anywhere in fact". And that's despite the fact that, for all his achievements, the decathlete still struggles for the recognition his exploits arguably deserve. You could point to a few reasons why that might be. But the question we're asking above all else is how and why he became a Boro' player. It's not every day we have Olympic gold medallists in the squad.
When did he sign and who from?
It's said that a persistent hamstring injury is the reason that Daley Thompson had to knock the athletics on the head. But he wasn't done with the sporting life. And football was his next move. As well as getting some reserve game time with Mansfield Town, Thompson trained at Reading and the football club formerly known as Wimbledon. And it was from the latter that he came to Broadhall Way.
Boro' manager Paul Fairclough told The Comet: "[Daley] has spent the previous seven weeks at Wimbledon out of the glare of publicity. I've spoken to both the clubs he's been with, and they tell me he's getting better all the time. We're taking it seriously and like all football trialists (sic), Daley will begin in our shadow squad where our reserve management will prepare a report on him. After that I'll take a look at him myself."
Phil Ravitz also noted in that same report that "a former schoolboy footballer, Thompson first began training at Reading as part of a documentary film he's making for the BBC". Now, we've seen footage of his Boro' debut. But we can't remember when and we can't remember where.
Did he play often?
Into the team he came and an immediate impact he made; lining up against Diadora League Division Two side Ware in an Eastern Floodlit League tie on 31 October 1994. Nearly 300 fans packed into the ground for the spectacle. Thompson's first half contribution was fair enough. But he came alive in the second. Two goals in three minutes put us clear of the Blues and put Cloughie's men on the path to an eventual 3-1 win.
As Phil Ravitz reported: "On 62 minutes, [Thompson] gave Boro' the lead when second half substitute Adam Parker slipped around two defenders and despite being forced out by Ware keeper Haggar put over a fine cross that THOMPSON despatched to the roof of the net with venom.
"Three minutes later, he gave Boro' a two goal cushion. This time another of Boro's young prospects Mark Phillips made the opening with a solo run through the heart of the Ware defence before laying it square for Daley Thompson to again finish emphatically with a rising shot."
A hamstring twinge saw Thompson leave the action on 70 minutes. But he did enough to give Cloughie plenty of optimism; "If he's recovered fully from his hamstring pull, he will definitely play for one of our sides on Saturday".
Where is Daley Thompson now?
If he did play for one of our sides "on Saturday", that'd make it 5 November 1994. Our first team took on Telford United at home, while our ressies went to Enfield. Yet neither team included the champion athlete. At least that's what the Farnborough matchday programme on 12 November is telling us. And what it also tells us is that Daley Thompson, from a Boro' perspective, appears to simply vanish into thin air. Not even The Comet seemed to offer a reason when we searched.
We do know he popped up at Stamford in the early stages of the 1995-6 season, before turning out at Ilkeston Town at the back end of that same campaign. By then, Thompson was well into his late 30s and any lingering dreams of a football career at an end. But we don't know why he left Boro'. Maybe he fell out with Cloughie? Or his hamstring injury stopped him from playing at GM Vauxhall Conference level? It could even be that it didn't get any better than Ware at home.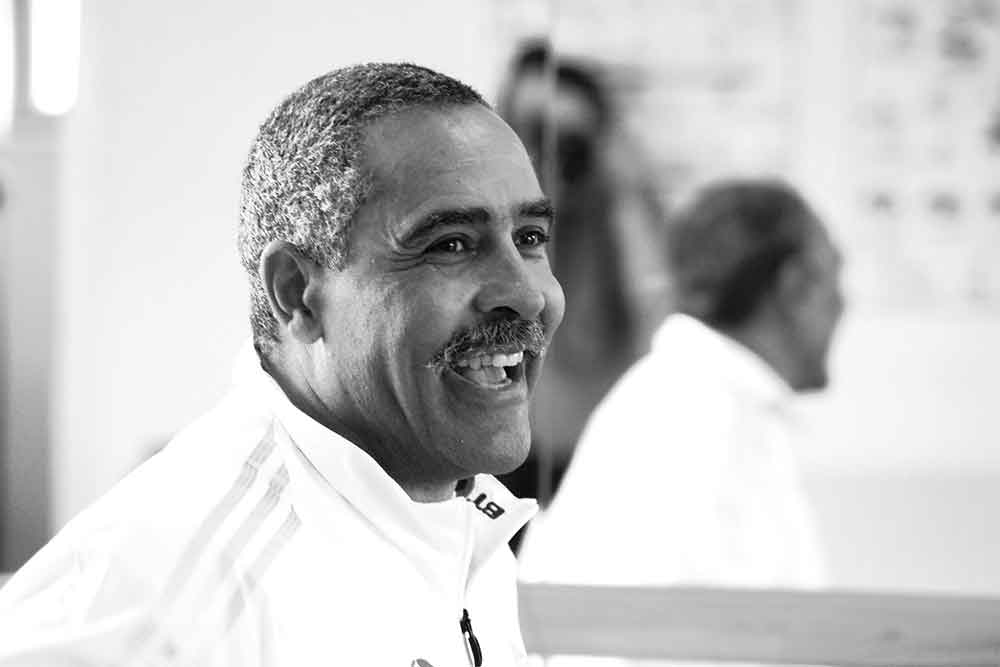 In the years that followed, Thompson did various things. He was a London 2012 ambassador, a media personality, a gym owner, and the founder of a sports nutrition brand. But he continues to be one of the finest athletes this country ever produced – if not exactly a Boro' legend…
DALEY THOMPSON –
1 (0) appearances, 2 goals (1994)