If there is one thing to be said for being a Stevenage fan over the past few years, it is that it has been quite a ride. And the calendar year that was 2012 has been no different. Although it was the first in three years that there wasn't a promotion to celebrate, Boro's stock never seemed so high as the previous 12 months delivered so much to remember and has offered the promise of more to come.
JANUARY

Admittedly, the year didn't get off the best start, with Leyton Orient arriving at the Lamex to end an 11-match unbeaten run in League One; a run that had propelled Boro' right up to sixth place. But while the year started off on a relative low, we didn't wait long for the first high of the year; a win at Reading in the FA Cup Third Round avenging the previous year's Fourth Round defeat against the same opponents.
Within a week, however, the manager had gone. Graham Westley opted to move north and take the reins of Preston North End. There were fears for what the post-Westley future had in store, but they were quickly dissipated with a crushing 5-1 win at Rochdale under Mark Roberts' temporary management. Robbo's tenure lasted three games, with seven points his tally – another win and one draw.
In came Gary Smith, and as January ended, Boro' were through to the FA Cup Fifth Round for the first time ever after defeating Notts County at the Lamex. Tottenham Hotspur were up next.
Off the pitch, or sort of related to on the pitch, there was a huge statement of intent as Phil Wallace paid out for Arsenal's Luke Freeman, who had been on loan from the Gunners along with Chuks Aneke. However, there was no such fortune for James Wallace. Brought in on loan from Everton by Graham Westley, he went back to Goodison Park without so much as kicking a ball in anger after Wezzle moved on.
FEBRUARY

Boro' finished January as they had started it – lying in sixth position and three points clear of Carlisle United. However, there was no action in February until Valentine's Day – a quite formidable trip up to Hillsborough. You probably would've got long odds at the start of the season that we would complete a league double over Sheffield Wednesday, but the 1-0 win in South Yorkshire meant that it came to be. And it is something you certainly wouldn't have seen coming five years ago when we were content with doubles over Woking.
The next task was to somehow engineer a massive upset against a Tottenham Hotspur side on the hunt for a Champions League place. Live on ITV, Boro' welcomed Spurs to a packed Lamex side and stifled their illustrious guests. OK, so Kyle Walker ought to have scored for Harry Redknapp's team, but Joel Byrom wasn't far away with one long-range effort. In the end, we had to settle for a 0-0 draw and a replay(!)
Returning to league action, Boro' crammed three games into six days and only secured one point from it; a last-gasp defeat at Notts County was followed up by a loss on a ridiculously warm day in front of 26,000 fans at Charlton Athletic, before the first of a few evening late, late shows saw Stevenage rescue a point against Huddersfield Town. The month ended and Boro' were still clinging onto sixth position.
MARCH

After March started with a fairly uninspiring draw down at Exeter City, the time had come to renew hostilities with Spurs in the FA Cup. Most people may have had us down as lambs to the slaughter at White Hart Lane, but we have this thing for upsetting applecarts; a case in point being Joel Byrom's 4th minute penalty to put us ahead and sending 4,000 visiting supporters mad with delirium in the South Stand.
It didn't last. Jermain Defoe is far too potent a striker to give chances to, and Bale worked his "magic" to conjure up a questionable spotkick for the hosts. But we were no more than the width of a crossbar from bagging an equaliser. On another day, it would have been 2-2 but we eventually ran out of steam – 3-1 the final score, but perhaps slightly flattering with regards to the Premier League giants?
The league was now the main focus and maintaining that last playoff place. Boro' only had one win to report that month – at home to Oldham Athletic – but, crucially, went unbeaten with six draws. Those results included yet more Lazarus-style comebacks at home to both Chesterfield and Bournemouth. Boro' fell to eighth by the end of the month and were five points behind Carlisle. How were your nerves?
APRIL

With the gap between Stevenage and the top six looking a little imposing, Boro' could have done without a 3-0 defeat at Tranmere in early April. Graham Westley made his return for the next fixture; his Preston team taking a point from the Lamex and leaving Boro' now six points adrift of Notts County, who had overtaken Carlisle to lead the hunt for the last berth on offer in the playoff zone but who had played a game more.
In need of some inspiration, Boro' made the trip down to Yeovil Town and came alive with a huge 6-0 win; Patrick Agyemang scoring his first for the club among others! But if it was to count for anything in the playoff race, nothing less than home wins against Carlisle and Brentford would do for Stevenage at this stage. It's just as well the two fixtures delivered a maximum quota of points then.
In the former, John Mousinho returned from injury and off the bench to sink Carlisle. And no doubt the latter was helped by Brentford's inability to convert penalties; failing twice in a 2-1 defeat at the Lamex. It left Stevenage back in sixth position and two points ahead of Notts County, but facing the prospect of having to get something from Sheffield United – in front of 30,000 fans – to maintain that push.
Not only was Bramall Lane full to the rafters, but the Sky cameras were in town. This was a serious advertisement for third tier football. Kicking off in the evening, we knew that Notts County had scraped a late win against Wycombe, but we were undaunted. We raced into a two-goal lead and despite being pegged back to share the spoils, our goal difference meant matters were in our own hands.
MAY

In 2010/1, we squared up against Bury at the Lamex on the final day of the season needing a positive result (or at least better than our near rivals) to get into the playoffs. In 2011/2, a similar fate had been bestowed upon us. It was Bury again. And we needed to at least equal Notts County's result. In the end, it was comfortable – but it needed late goals from Joel Byrom and Chris Beardsley to seal a vital 3-0 win after Craig Reid had given Boro' the lead midway through the first half. Notts County won 4-1, for what it's worth…
The "reward" for securing the last playoff place (on goal difference) was two more matches against Sheffield United. Both televised, the first and home leg was a drab affair and a 0-0 scoreline was justified, even if Craig Reid did strike the crossbar. The second and away leg was heading the same way, until Sheffield United broke Boro' hearts with an 84th minute winner. No third straight promotion then.
Not that it warranted the pitch invasion that greeted the final whistle. Last time we looked, United were still in League One. Premature is perhaps a word best suited to that particular occasion, no?
JUNE/JULY
The close season was dominated by comings and goings, of which there were a lot. Some of the incumbent squad members followed Graham Westley to Preston North End, and other individuals earned their opportunity at a higher level. And some just didn't feature in Gary Smith's plans. However, Smith himself has admitted that there was a higher turnover than initially planned. It truly was a new era for Boro'.
Out went: Chris Beardsley, Michael Bostwick, Joel Byrom, Ronnie Henry, Alan Julian, Scott Laird, Jamaal Lascelles, Stacy Long, Ben May, John Mousinho, Darren Murphy, Jennison Myrie-Williams, Craig Reid, Robbie Sinclair, Jordan Slew, Lawrie Wilson, Peter Winn (17)
In came: Lucas Akins, Steve Arnold, Matt Ball, Miguel Comminges, James Dunne, Anthony Furlonge, Anthony Grant, David Gray, Marcus Haber, Lee Hills, Andy Iro, Dani Lopez, Filipe Morais, Bondz N'Gala, Oliver Risser, Robbie Rogers, Robbie Sinclair (eh!?), Greg Tansey (18)
AUGUST

For the first time in a few years, Boro' started the season in the same league in which they had ended it previously. There was the obligatory dull home draw to start the campaign – some things never change – before two trips on the road yielded six points. In the Capital One Cup, AFC Wimbledon were duly dispatched, but Southampton eased past Stevenage despite a first half battering by us at the Lamex.
August was a relatively quiet month and ended with Boro' in fourth, level on points with three others as the early-season pacesetters. But there had only been three league games to speak of at that point.
SEPTEMBER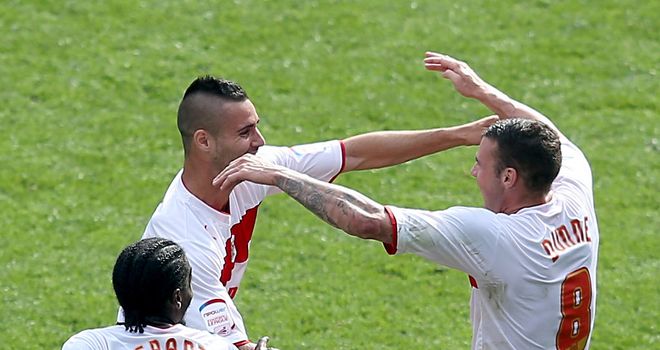 Into September and a noticeable trend was emerging. At home, Boro' were draw specialists and on the road, the new-look side was generating maximum returns. A home draw versus Shrewsbury was followed by victory at Coventry, before Crewe earned a draw at the Lamex on the 15th. Finally, the wait for the first home league win of the season ended on the 18th as Boro' overcame Walsall 3-1. But it was always coming… definitely.
For a brief moment on the 22nd (OK, so it was more like 20 minutes), Boro' led Doncaster away and Tranmere had fallen behind to send the Hertfordshire side top of the division. It didn't last, but it was yet another high for Stevenage FC and one that has, to date, yet to be replicated. But we now know what it's like.
Boro' drew that game at Doncaster and drew yet again at home to Bury to end the month in fifth place and without defeat. September was also the month that saw A Load Of Old Toffee – the independent Stevenage FC podcast – launch. More boundaries broken…
OCTOBER

October started with a bang as Boro' maintained their impressive away record. This time, Gary Smith's men came from behind against ten-man Notts County to nick a 2-1 win late on in what must have been an absolute choker for the hosts. And the month kept giving, with a fantastic Greg Tansey free-kick making it two wins from two against Scunthorpe. It did nothing to calm the anticipation of an expected promotion push, even though the season was just a couple of months old and there were many more twists to come.
The unbeaten record finally went in mid-October with defeat at Colchester – the scene of a rampant 6-1 win the season before. But as disappointing as that was, Boro' bounced back to record impressive victories at MK Dons and against Portsmouth at home. Just another large old club put in their place by used-to-be-non-league, making-history-not-living-in-it Stevenage. It's just how we roll these days.
But then things went slightly awry as October came to an end. Did you hear about the one where Boro' conceded four in a match? At home? We hadn't – at least, not since Hayes did it back in the late 1990s. So we were a little taken aback when Swindon Town handed it to us and scored four without reply. And yet we still ended the month in fourth and just two points off the pace. Wowzer.
NOVEMBER

If the 3-1 victory at Yeovil Town in early November was seen as the remedy to the Swindon defeat, it would have been premature to assume it had worked. The next two fixtures saw a further eight goals conceded – at home to Preston and away to Sheffield United. Suddenly, this division appeared to be capable of great cruelty. Ouch we cried. No more! Please stop! They were beatings we just weren't used to. We've happily handed out some of our own since joining the League, but it was never to be returned in kind!
We also feel inclined to gloss over the FA Cup exit at the hands of League Two Rotherham United and our old adversary, Steve Evans. It's been a long time since we failed to win one FA Cup game in a season; the last, we think, was a Fourth Qualifying Round exit a decade ago at the hands of Kettering Town. And that was after a replay! After two years of epic FA Cup runs, this year wasn't to be ours. You can't have it all!
After the defeat at Sheffield United, Boro' sought to get back on track. It was tentative. We were held to a 1-1 draw by a rejuvenated Bournemouth under new management, while the mercurial Greg Tansey was needed yet again as Stevenage rescued a point against leaders Tranmere Rovers in the final match November had to offer. And yes, Ronnie Moore, Greg knew exactly what he was doing…
DECEMBER

That indifferent run of form saw Boro' fall away from the top to finish November down in seventh position, but still a mere five points off the top. Hopes were high for a prosperous December and it started well – a 2-0 win at lowly Hartlepool United coming after a longer break than usual, with the FA Cup Second Round leaving teams such as Stevenage with no fixture between 24 November and 8 December. It was during that extended lay-off that we heard of the tragic news that Mitchell Cole had passed away, aged just 27-years-old.
Cole was brought to the club by Mark Stimson but he stayed on when Stimmo moved to Gillingham to form part of the Conference winning side under Graham Westley, having already helped etch Stevenage's name into history with the 2007 FA Trophy triumph. But, as we have written before, there are many more memorable moments Mitchell provided us with during his years at the Lamex.
Crawley Town came to the Lamex on 15 December; the first time Boro' had congregated at home since Cole's passing. It enabled fans, staff and players alike to pay their tributes to a Boro' great. Unfortunately, Boro' couldn't mark the day with a victory and slid to a 2-1 loss after Robin Shroot had given the hosts the lead. It was the first time since December 2009 we'd lost after scoring the first goal.
A busy and challenging Christmas period was on the cards for Boro' – away to Brentford, at home to Coventry and then home again to Notts County. Persistent wet weather, however, had ideas of its own and forced the postponement of both the Brentford and Notts County games, which meant that the 3-1 home defeat against Coventry City was the only outcome to emerge from the festive period.
Those two most recent defeats, coupled with the results of other teams who fulfilled games on days that Boro' couldn't, sees us end the year 2012 in 10th position and 10 points off the top; but a mere two from the playoff places. As we enter 2013, we'd be right to pursue hope of a promotion challenge. In September, Smith said he wanted to be at least 10th by now – well, here we are. Now watch us go on.