If we don't yet have a Latin motto, maybe it should be 'Dubitantem da Westleia clamore' – when in doubt, give (Graham) Westley a shout? Or, perhaps it ought to be 'Fatum semper accipere' instead. That'd look pretty sweet written across a big ol'amber and black banner, don't you think? If it doesn't already, that is. Whatever you think, the bottom line is that our most successful boss in recent times (if not ever) is back at the helm. And we're in a spot of bother, so need him to work some of his magic.
Graham Westley: Who Is He?
Are we really having to ask this one? The story of us and Graham Westley is a long-running one with multiple instalments. So, you could essentially think of it as the next Bond franchise or something like that – yeah? He first came to us in 2003, with Boro' in much the same sort of shizzle. After crashing to the bottom of the Conference on Boxing Day 2002, Phil Wallace had to act to stop us from being flushed into what would've likely been the Ryman Premier. He had a look round and turned to the Farnborough manager/chairman.
And that move caused absolutely no controversy. So, moving on…
Hotshot: Part Deux
After the high point of the 2004-5 Nationwide Conference playoff final, our failure to make the 2005-6 playoffs (among other things, probably) spelled the end of GW's first time at the helm. Mark Stimson and Peter the Tailor came and went – leaving us in search of a new boss again in summer 2008. For the chairman, there was only one man for the job – even if it was, let's say, a little divisive. But that's by the by. The doubters would soon be proved wrong in spectacular fashion; Boro' winning the 2008-9 FA Trophy and building something big.
Champion. Medal Winner.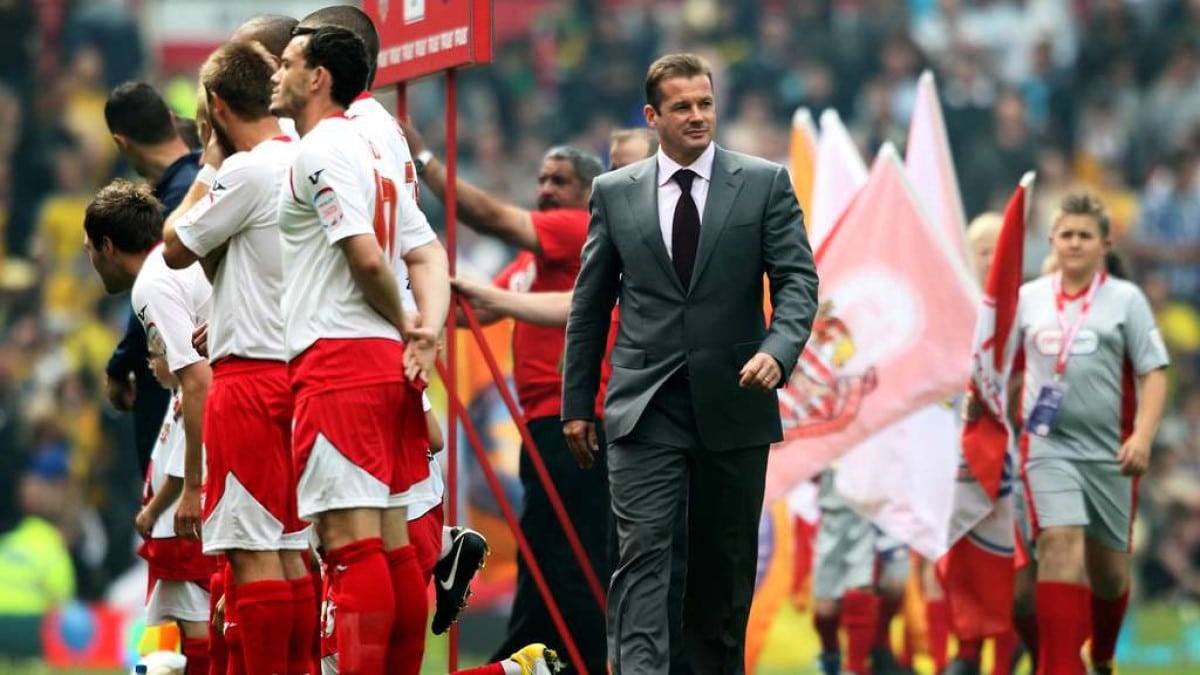 Not content with that one FA Trophy, Graham Westley achieved something in 2009-10 that no other gaffer before him had – promotion to the Football League. As Luton Town were messing their pants, we romped home to a second Conference title. And we nearly made it a non-league double. But we won't dwell on the Barrow shenanigans too much. Up we went – but G-Wezzle still weren't content. Life in League Two exploded after Christmas, securing promotion to League One at the first go. Got our revenge on Newcastle in the Cup too!
End. North End.
Boro' kicked on once again under GW's leadership, making a blistering start to life in the third tier. Seriously, we were toying with the big boys like Sheffield Wednesday. With one eye on the Championship, however, in came Preston North End and whisked Graham Westley away. Do good stuff and you'll get people's attention, right? So, on he moved and in Gary Smith came to pick up where the former boss had left us. He kept it moving, to be fair; reaching an FA Cup Round 5 replay and getting us into the playoffs.
Third Time's A Charm
With Smith finding it ever harder to keep our heads above water in League One, back to GW went the chairman. In the short-term, things didn't pan out as hoped. After steadying the ship during the 2012-3 campaign, Boro' came bottom of League One in 2013-4; relegated for the first time since 1988 and for only the second time ever. But you can look back now and make a strong case to suggest that we had ideas well above our station being in League One in the first place. League Two was (or is) perhaps a much better fit.
Not that it stopped Graham Westley trying to lead us back into League One. At the first time of asking, we hauled ourselves into the playoffs. Up against a very good Southend United team, it was just too far beyond us; the Shrimpers ultimately going up. But it was enough to make us look forward to 2015-6, no? Well, no. That playoff was GW's last involvement in his third spell with us; Teddy Sheringham taking charge instead.
History won't judge that decision too well…
Graham Westley: Since then?
In the time since leaving us a third time, Graham Westley had three further managerial roles: Peterborough United, Newport County and Barnet. Posh seemed to be a good fit too; named League One Manager of the Month in November 2015 and getting them into the attacking groove. But a poor run of form saw him out of a job in April 2016 and not back in the dugout until October when the Exiles came calling.
Newport were in dire straits at the time, with GW taking on a club in danger of falling out the Football League. After losing to us, he wasn't "prepared to tolerate that sort of rubbish anymore" – but he couldn't turn around the Welsh club's form. He was sacked in March 2017 with County adrift at the foot of the table. But they survived that season, with some of the credit perhaps due to his actions while in charge?
Not sure the Exiles' fans will be agreeing too readily there. Meh.
After that, it was to Barnet he'd go; Posh director of football Barry Fry recommending to the Bees that GW be the man to keep them in the League. That was in January 2018 – but Barnet pulled the plug on his tenure after just two months. The fact that Martin Allen was available was probably just mere coincidence, right? Anyway, it was probably for the best. Barnet went down. Allen was at the helm when it happened. And GW was well out of it.
As well out of it as the Bees are the League.
What next?
Let's not get too far ahead of ourselves just yet. The point of bringing in Graham Westley for a fourth spell is to make sure we're nowhere near the trapdoor come the end of May. There's one relegation spot this season and it's all Morecambe's as far as we care. Them, or maybe Dino Maamria's Oldham Athletic could get dragged into the mix if we can start clocking up the points. A few goals wouldn't go amiss either. Once that's all done, maybe we can start to dream big again. For now, however, let's just be a Football League side this time next year.