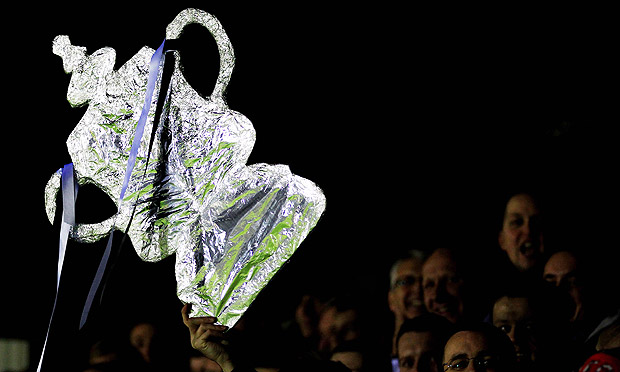 And now for something completely different… the FA Cup. The pluckiest non-league teams have been decided and now is the time for us Football League types to come to the party. It could have been Stourbridge, it could have been Biggleswade – yep, it could have even been Barnet. But no, it had to be a team we played barely seven months ago and one who appear to be finding a use for Bondz N'Gala and Patrick Agyemang!
We can speak about our disappointment about drawing Portsmouth in the cup, but we are aware that they probably aren't too chuffed about it either. Or about life in general down in League Two. It is only five years since Harry led Pompey to FA Cup glory from the comfort of his car window; a season in which Ex-England Manager Peter Taylor (Did Well At Hull) had naffed up our Blue Square Premier playoff charge.
It is also a mere three years since we first encountered Portsmouth as League Two's Bright Young Things in the League Cup, going down 2-1 to the Championship side – as they were of course back then. And down the pyramid they continued to the point that now we're the team in the higher division. If we lose this weekend, it will be Portsmouth who are causing the upsets. Fancy that back in 2008, eh?
It would be wrong to repeat a lazy stat but we've lost five out of seven FA Cup First Round games – obviously neglecting all those Fourth Qualifying Round games we've won. But the counter argument is that Portsmouth have now lost four successive FA Cup games should you be including their 2010 Final defeat. Form-wise, they're on a decent run but our home record of late is pretty nifty. How's your confidence?
FIFA14 Verdict:
Boro' line-up:
Day; Smith, Ashton, Jones, Hartley; Tansey, Heslop, Doughty, Freeman; Morais; Zoko
We anticipate the manager making one or two changes this weekend, but we couldn't work out where they would be. Therefore, we stuck with the same starting line up as the last two weeks or so – for all the good it did! Having also bumped up the difficulty level, we have an apology to make as we realised some pretty potent fears about how this game may pan out if the sporting gods are really against us this weekend.
It had nothing to do with playing this game at 23:45 on a day that had started many hours before; nor was it really the difficulty level judging by our progress in career mode. No, we have no excuse for Bondz N'Gala walking in their first goal. We have no excuse for making a hash of marking Patrick Agyemang all game long. And we have no excuse for letting him score Pompey's third. FT: Stevenage 0-3 Portsmouth.
Referee Watch:
Gary Sutton – We first encountered Mr Sutton during our Conference days and it seems as if he has come up the leagues with us. He was in charge for that awful, awful day at Barnet when we lost 2-1 in January 2005 and there has just been the one game in which he hasn't shown a card to a Boro' player (v Nuneaton Borough, 2003). The one Stevenage player he has sent off was… Mark Roberts (v Cambridge United, 2009).
Our record under Gary Sutton:
P12 W4 D4 L4 F17 A17 — Yellow: 26, Red: 1
Bookie Bashing:
Get on board this one sooner rather than later, because the bookies are split and some of the prices are looking decent! We're 13/10 for the win if you look hard enough, and we're thinking of Over 2.5 Goals – someone will win this 2-1. Francois Zoko is 6/4 anytime with a handful of bookies, but the sadists among you might fancy Patrick Agyemang (12/5) or Bondz N'Gala (10/1). It'd soften the blow, if anything! At the time of writing…