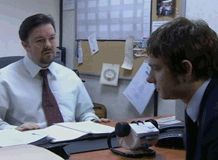 Let's have a little bet. How far can we get into this blog post without mentioning Graham Westley? If you said "18 words", you will be awarded some form of honour at some point and we will sigh in exasperation. But then again, were we ever going able to escape the fact that G-Wezzle's return would generate some hype. Because it's him and he's bringing old friends with him – but as Smiffy pointed out earlier this week, it's only three points at stake and just another brick in the wall. If the wall was the league season, and the brick was a game.
GW doesn't feel he has a point to prove either, it seems.
Last time around, GW came back and Smiffy's feet were barely under the table. It ended in a draw – inevitably, perhaps – and we were all able to relax in the knowledge neither had earned awkward bragging rights. Now it's a bit different. Smiffy is firmly installed in the seat once occupied by the Westleymeister General. And we've need points if we're going to keep up this promotion challenge.
Now. We're at home and the other two bothering the top spots are away from home. You'd think that'd be enough to qualify us for the right to muse "who knows, by 5pm and that" – in true Stevenage FC tradition, that'll no doubt jinx things. As far as we're concerned, we're only now able to believe that we will definitely win the 2009/10 Conference title. Such is the nerve of a football fan.
Last thing we need is to drop points on Saturday and find out that Tranmere and Sheffield United have done so too. Especially given where we're going next week *sheesh*! So is this actually our cup final? A chance to be top of the league for a week (are there any Tuesday games next week)? Or the risk of Jim Bowen walking down Broadhall Way laughing – "this is where you could have been". Ach the head spins.
Team-wise – we think we may see Haber and Freeman return at the expense of Agyemang and perhaps Tansey. No real reason for the latter – at home, Smiffy might fancy letting the young Luke go at Preston. Akins and Gray to dominate Scott Laird, John Mousinho to be somewhere injured and Dani Lopez to score. That's our crystal ball and it comes with a three-year guarantee.
FIFA13 Verdict:
On a rainy Saturday afternoon, the conditions weren't ideal but Boro' made a pretty decent start to this one. Lining up with a 4-2-3-1 formation against Preston's 4-4-2, the home side made the better start and the only change saw Luke Freeman come in for Greg Tansey. But Boro' may have felt frustrated not to have broken the deadlock in a first half where Preston North End offered little threat.
In the second half, Freeman and Haber made way for Tansey and Agyemang, before Lopez came on for Morais; Boro' going to 4-3-1-2. Finally, a goal came in the 82nd minute thanks to Agyemang and it was followed two minutes later from Dani Lopez. However, Darius was sent off on 85 minutes for a second yellow card and Jon Welsh pulled one back in the 90th minute. Oops. Well, it isn't easy…
FT: Stevenage 2-1 Preston North End (Agyemang 81′, Lopez 83′; Welsh 90′)
Bookies' Verdict:
Boro' are edging the running in this one and the best odds currently on offer (at the time of writing of course) appears to be 13/8 at Pinnacle. However, those odds have shortened and you'd do well to get in now. If you think that a stalemate is a more likely option, the 12/5 at totesport is topping the pile at present. For the sake of housekeeping, Ladbrokes are giving 21/10 on a Preston North End triumph.
With Filipe Morais in a relatively rich vein of form when it comes to scoring, you can find a tasty looking 14s on him being first goalscorer or anytime at 9/2 with Bet365. Agyemang is 15/2 to be first and 12/5 anytime (again with Bet365), while Scott Laird is 11/2 to score any time during the game. In terms of correct score, 6s gets you the 1-1 draw with William Hill and 2-1 Stevenage is 9s at Coral. You decide!
Last Season:
Stevenage 1-1 Preston North End (League One, 2011/2)
Team Tarot (4-2-3-1):
Arnold
Gray
Roberts
N'Gala
Charles
Dunne
Grant
Akins
Morais
Freeman
Haber