For our rise up the leagues during the early 1990s, some names may stand out more than most – and Dave Venables is one of them. Well, he is for us at least. And it's no mean feat when you think about the fantastic attacking talent at our disposal. In those years between 1993 and 1996, there was Barry Hayles, Martin Gittings, Neil Trebble, Corey Browne and Tony Lynch – as well as others. Even in such outstanding company, however, Venners did his thing. And he did it week-in, week-out for three-and-a-half seasons.
Dave Venables: Why Is He A Cult Classic?
If you're a fully signed-up member to the TL;DR club, the short answer is that Venners got goals – and laid 'em on too. And that was perhaps no mean feat at a time when Boro' had broken new ground. OK, so he'd missed our debut season in the Diadora League Premier Division. But boss Paul Fairclough moved in to sign him ahead of the 1993-4 season. This turned out to be an inspired move. You could also say that he started as he meant to go on; scoring on debut against Hertford Town in the Herts Charity Cup.
You could count the number of players who outpaced Martin Gittings in the scoring stakes with one hand. Or maybe even finger. To start with, however, Venners did that; topping the Boro' scoring charts in the first few months of campaign; putting himself in the frame as far as the Diadora Premier League top scorer betting offers were concerned. At the time, that was so valuable to us; building on a decent seventh-placed finish in our first season at this level. And it was getting noticed by national press like the Independent and Telegraph too.
He even earned the Player of the Month accolade for September 1993.
Gitts obviously caught and overtook Venners that season; our all-time top scorer finishing the 1993-4 campaign with exactly double the number of his cultured colleague. When you think that Gitts bagged 40, however, you see how much Venners put into the pot too. That doesn't even include the assists that our wing wizard contributed. We were going up to the Conference for the first time in our history. And Venners played no small part in earning it.
Just like 1992-3 was a campaign of getting used to the Diadora League Premier Division, so too was 1994-5 in the GM Vauxhall Conference. It wasn't a level beyond many of our lads, even if the early days were tough. Venners was no exception to that. Nine goals isn't huge in comparison with the 20 he scored the season before. It was still good enough to be our joint-second top goalscorer (with Lynch).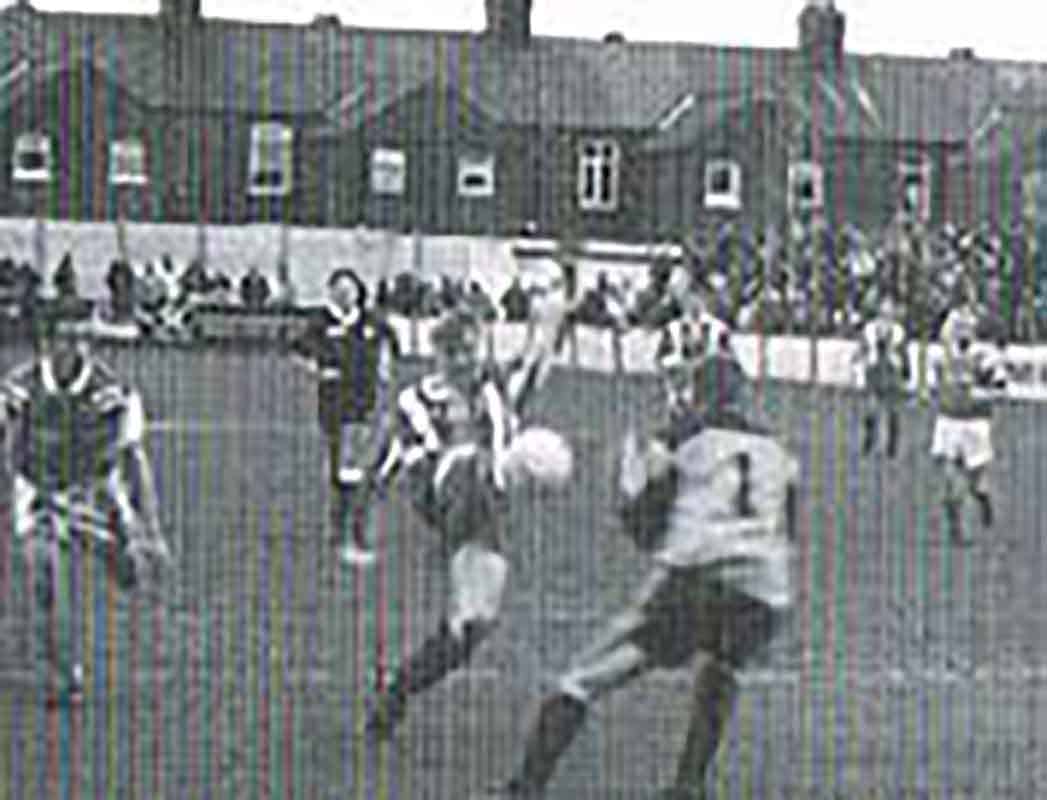 So, Venners won over the hearts of the Boro' faithful and got noticed by the national press – all in double-quick time. More recognition was coming his way too; the winger becoming what we can only call a regular for the England non-league side. He was one of the first (if not the first) Boro' player to earn international caps. In the years that followed, there'd be a good few to do so too; from Smudger to Eldinho. Venners, however, was a trailblazer.
Into the 1995-6 season, then, and yet more new heights for Cloughie's Boro' side. Not for the first time, either, Dave Venables had an important role to play. Not only did he score a total of 13 goals (behind Bazza and Corey), there were numerous assists. And it powered us to an unprecedented title; unlocking the door to the Football League (if only!). Like our other title-winning heroes, he'd earned a shot at a higher level.
Like some others, he didn't get it.
Dave Venables: Epilogue
Boro' had to go again in the Conference for the 1996-7 campaign. The squad still looked a strong one; our hopes high of retaining the title – and this time claiming that promotion. If that was going to happen, though, it'd be without Venners. The winger left us in December '96; moving to Kettering Town for a mere £9,000. For the Poppies, it feels like a ridiculous bargain. For us, it was a big loss.
"I had a tremendous time at Stevenage –  and hope they win the league again," explained Venables in the programme for our home match against his new side in February 1997. "I want to thank everyone for the terrific support they gave me during some wonderful times at the club."
Of course, history shows that we wouldn't go on to win the league again; Boro' running out of steam in the business end of the season as Macclesfield Town went onto win promotion to the Football League instead of us. So, can we make the claim that Venners' mid-season move left us short of a valuable attacking option? Well, it's not the wildest claim – is it? His record for us speaks for itself; six goals shy of a half century and countless assists.
Venners spoke of thanking Boro' fans for their support. But the gratitude is surely returned in buckets. Jay Drackford, our current matchday announcer, told Hitchin Nub News: "My absolute favourite player [was] Dave Venables. [He] was my PE teacher at Collenswood School and nothing could compare to seeing him run and terrorise defenders then see 'Sir' walk into class Monday morning with a smile on his face."
Even his peers have a lot of love for him. Gitts, his partner in crime for Venners' first term with us, includes him in his all-time Boro' XI. And he's a forward who'd been with us – on and off – since our very first campaign in senior football. So, he'd played with some of the best and brightest to turn out for us up until that point. For us, Venners is definitely one of them. And, with all those who have followed since, that hasn't changed either.
Our thanks to the Stevenage Football Archive for matchday programme information.